Time...dinosaurs and man?
Utah Pterodactyle.
This picture was found at San Rafael Swell in Black Dragon Wash, Utah.
*
You could see a human footprint like this today on any beach or patch of mud. But this footprint -- clearly from the anatomy of a modern human being -- is fossilized in stone estimated to be about 290 million years old.
*
Zuiyo Maru Monster: April 25 1977. Japanese fishing boat, Zuiyo Maru pulled up this creature off the coast of Christchurch, New Zealand. It seemed to resemble a plesiosaur (Jurassic period) however, the creature was found to only have been dead a month.
*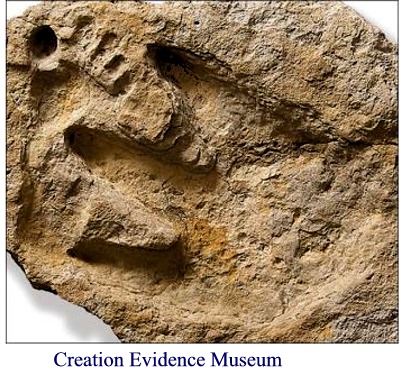 A slab of North Texas limestone is on track to rock the world, with its two imbedded footprints poised to make a huge impression in scientific and religious circles.
The estimated 140-pound stone was recovered in July 2000 from the bank of a creek that feeds the Paluxy River near Glen Rose, Texas, located about 53 miles south of Fort Worth. The find was made just outside Dinosaur Valley State Park, a popular destination for tourists known for its well-preserved dinosaur tracks and other fossils.
The limestone contains two distinct prints, one of a human footprint and one belonging to a dinosaur. The significance of the cement-hard fossil is that it shows the dinosaur print partially over and intersecting the human print.
*
*
Cambodia - This photo of the stunning Ta Prohm Temple deep in the jungles of Cambodia.This temple is the work of the remarkable Khmer civilization which lasted from the 800's AD until the 1400's AD. The temple is covered with the most intricate of carvings. The reader who was visiting the area noticed very distinct and clear images that seem to depict a Stegosaurus. How would this be possible if dinosaurs disappeared 65 million years ago?
*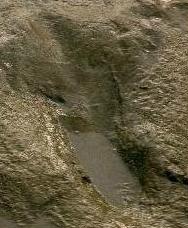 Stan Taylor first discovered two footprints in the Paluxy River. Subsequent excavation of the area revealed a total of fourteen prints in the trail with a consistent right-left pattern. Also found was a trail of a three toed dinosaur. One of the footprints is actually inside the dinosaur print.
purportedly debunked @ http://paleo.cc/paluxy/paluxy.htm
*
Take the case of Mishipishu, the "Water panther" for instance. Petroglyphs show him with the dorsal blades of the stegosaur and Indian legends speak of him using his "great spiked tail" as a weapon. Remarkably, the Canadian national parks which maintain these pictographs are unaware of the notion of interpreting Mishipishu as a stegosaur, and refer to him only as a "manatou", or water spirit.
*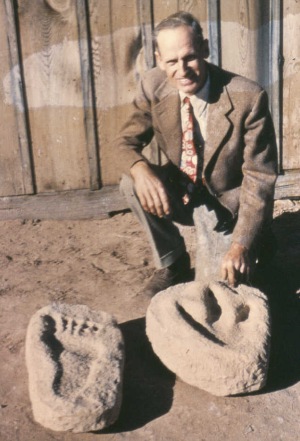 In the early part of the 20th century locals in the Paluxy River region discovered a large number of dinosaur footprints in ancient limestone beds. The locals also reported finding human tracks in the same area.
It has unanimously been agreed that the dinosaur tracks and the possible human tracks are in the same strata and from the same time period. This sparked a large debate between the creationists and evolutionists.
purportedly debunked @ http://paleo.cc/paluxy/paluxy.htm
*
Indian petroglyph in Utah of a man riding a dinosaur.
*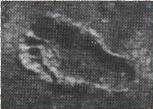 Description: These tracks were discovered by tourists near Lake Managua in Nicaragua.
Mainstream Theory: The strata which the tracks were found in were originally dated at 200,000 years ago, but later revised to 50,000 years.
Alternative Theory: The revision to the date was revised by geologists, not on any evidence, but for the sole reason that humans, according to the mainstream theory of human evolution, had not evolved until 100,000 years later. Because the established theory of human migration is that humans did not inhabit the Americas until 13,000 years go, the date was revised again to about 3,000 years ago based on Carbon-14 dating. This date is problematic as stratas above the footprints include mastadon bones, supposed to have been extinct 12,000 years ago.
*
Fossils, as we learned in grade school, appear in rocks that were formed many thousands of years ago. Yet there are a number of fossils that just don't make geological or historical sense. A fossil of a human hand print for example, was found in limestone estimated to be 110 million years old. What appears to be a fossilized human finger found in the Canadian Arctic also dates back 100 to 110 million years ago. And what appears to be the fossil of a human footprint, possibly wearing a sandal, was found near Delta, Utah in a shale deposit estimated to be 300 million to 600 million years old.